Acrylic on canvas
40 x 40 in
$4,800.00 including frame
---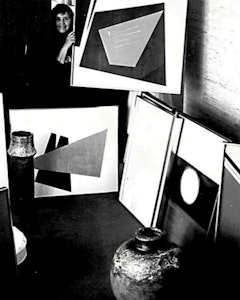 Born and educated in Germany, AnneMarie Entz emigrated to Canada in 1952. She studied Art at Brandon Allied Arts Centre from 1962- 1972, in addition to various summer schools and seminars in France, Scotland and Manitoba. Mrs. Entz' work is classified as 'Hard-edge painting', emphasizing clean lines, the flat surface and colourful geometric compositions, influenced by the trend of functional design that originated with the Bauhaus movement in her native Germany. Her work exudes intellectual discipline and careful craftmanship. Each work displays visual tension, resulting from the carefully thought out relationships between geometric compositions and colour, reminiscent of earlier movements in Suprematism and De Stjil.As a member of the Manitoba Society of Artists, the artist has exhibited in numerous group shows presented by the MSA at the Winnipeg Art Gallery between 1966 and 1974. In 1970, 12 of her works were part of a three women exhibition at the Brandon Allied Arts Centre. In 1973, Mrs. Entz had her first solo exhibit, showing 24 of her works at the Brandon Arts Centre. During this period, the artist was awarded Art grants from the Manitoba Arts Council. Her works are part of private collections in Canada, Scotland and her native Germany.
Add Annemarie Entz to your Collector Profile
Want to get notifications or exclusive online offers for artwork by Annemarie Entz? Add them to your collector profile and let us know what you're looking for.
Oil on Canvas
36 x 30 in
$3,800.00 including frame
---