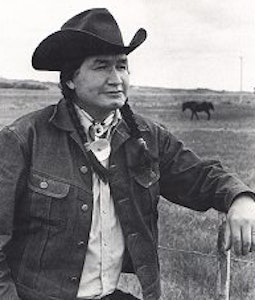 A descendant of the great plains Cree Chief Poundmaker, Allen Sapp was born in January of 1928 on the Red Pheasant Reserve, near North Battleford, Saskatchewan. Because of frail health in childhood he was often bed-ridden and began to draw and to paint to pass the time. He was raised by his grandmother, Maggie Soonias, who strongly encouraged his creativity as a way of giving expression to his world. His relationship with his grandmother, or "Nokum" as he called her was a profound one, and her wisdom gave him confidence to persevere in spite of ill health, a bout with spinal meningitis at age 14 and a lack of formal education. In 1966, Allen Sapp met Dr. Allan Gonor who became an influential role in Allen Sapp's artistic career and was the driving force behind the creation of the Allen Sapp Gallery. Gonor recognized Sapp's talent and amazing potential. He encouraged him to paint the life he knew, rather than the subject matter that he believed would be popular with the public. The Gonor Collection opened in 1989 in North Battleford, Saskatchewan, making Allen Sapp the only living Canadian artist, at that time, to have a museum dedicated to his work. Allen Sapp was elected to the Royal Canadian Academy in 1973. He was one of the first recipients of the Saskatchewan Award of Merit in 1985. Two years later, in 1987, he was made an Officer of the Order of Canada by Governor General Jeanne Sauve, in recognition of his achievements in the visual arts. He has had numerous exhibitions throughout Canada and abroad, including New York, Los Angeles and London. The work of Allen Sapp is represented in many private, public and corporate collections. Several books and catalogues have been published about his life and work, including, "Two Spirits Soar – The Art of Allen Sapp"; 1990, by W.P. Kinsella; "Kiskayetum, Allen Sapp – A Retrospective", 1996, prepared by the MacKenzie Art Gallery; and "I Heard the Drums", 1996, which featured his thoughts and perspectives and a large selection of his paintings. Allen Sapp passed away in December, 2015, just shy of his 88th birthday.
Allen Sapp Wanted for Purchase
Mayberry Fine Art and our clients are actively seeking works by artist Allen Sapp for purchase or consignment. Contact us for confidential assistance when offering a work by Allen Sapp for private sale.
Add Allen Sapp to your Collector Profile
Want to get notifications or exclusive online offers for artwork by Allen Sapp? Add them to your collector profile and let us know what you're looking for.