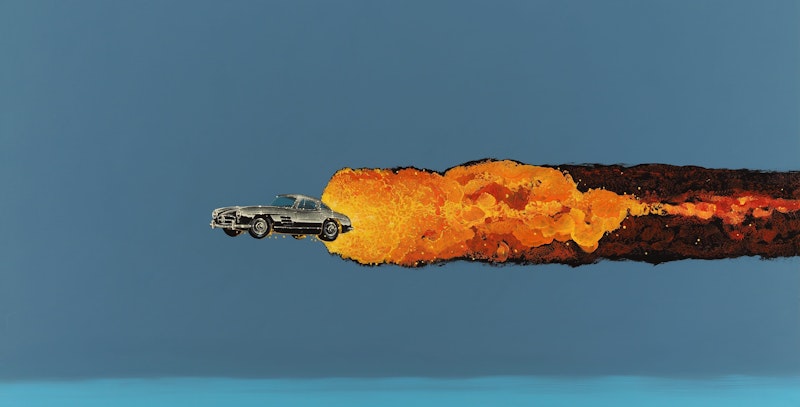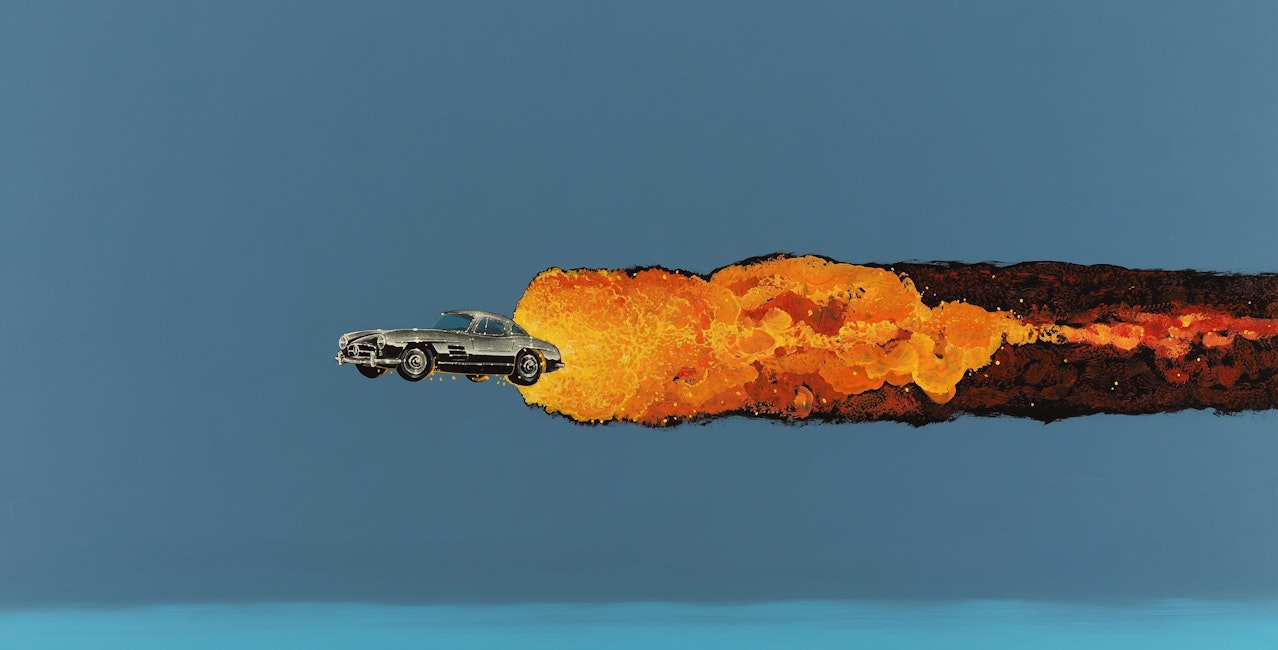 Sean William Randall : Catch the Sun
Sean William Randall is a Canadian-born visual artist. After studying architecture at the University of Manitoba,Winnipeg. Sean worked with various architecture firms in Canada as a designer and illustrator. He left the architecture profession to devote himself entirely to painting. Sean's works have been exhibited in public and private galleries and can be found in corporate, private and public collections . He lives and works in Winnipeg.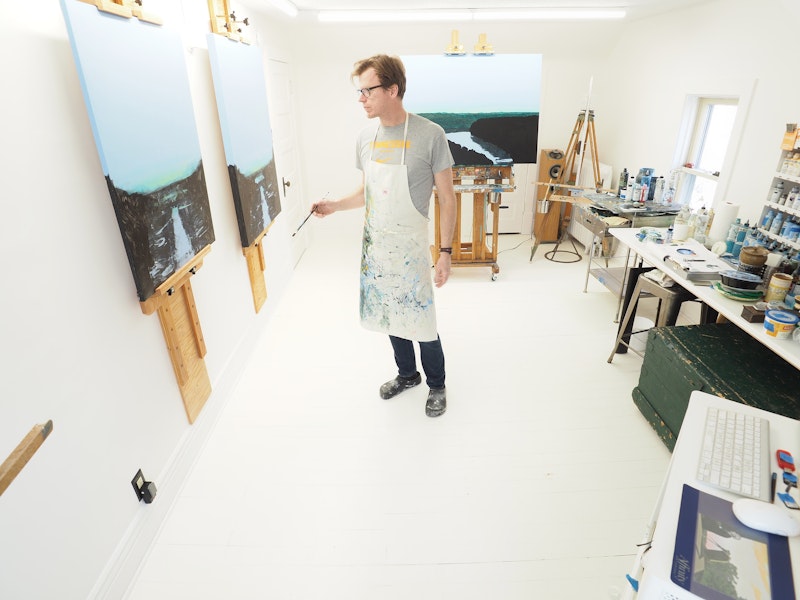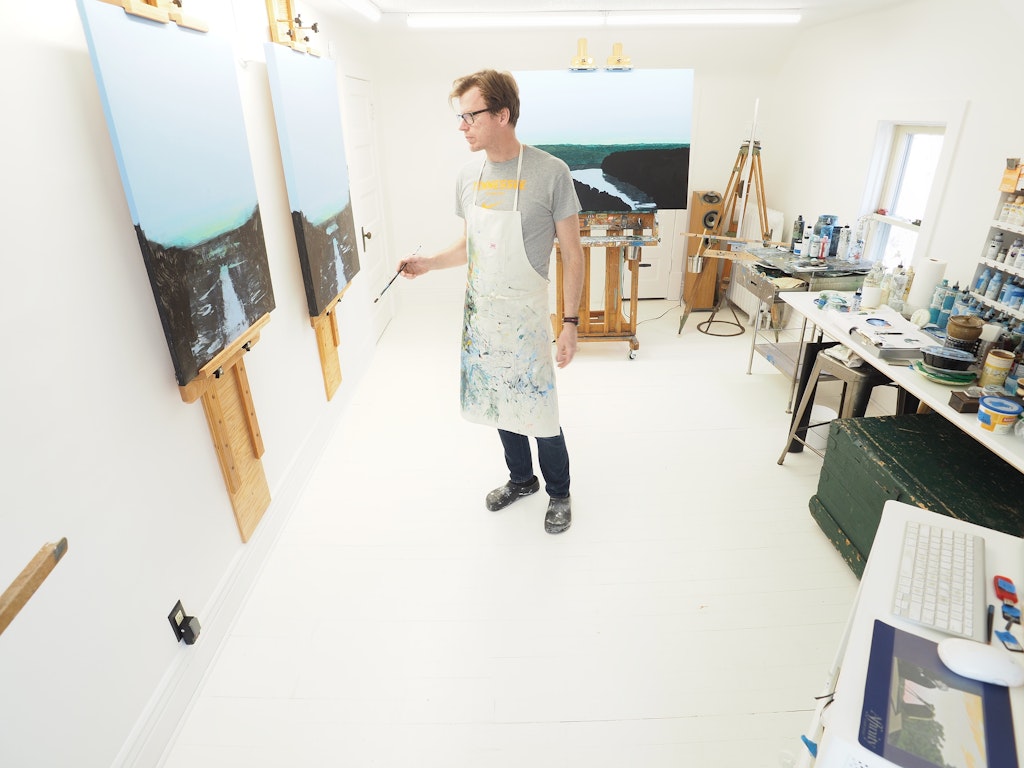 With his latest series, vintage cars streaking across the sky on fire, Sean William Randall has developed a fresh method of crafting visually compelling imagery underscored by tones of surreal tension. Exploring themes of paradox and absurdity, Randall paints a serene landscape, quietly going about its day, unaware of the looming catastrophe zooming overhead.
What caused this event is a mystery, how did these classic vehicles, preserved in mint condition for decades, find themselves careening through the air emitting fiery exhaust from their tailpipes?
By re-appropriating nostalgic imagery through combination and juxtaposition, Randall continues to elaborate on the subject of how we relate to history in the present day. Offering a realistic point of access into an absurd scene in which the familiar is made to feel foreign describes a sentiment of nostalgic longing from an inability to resolve our present selves with our past. This series speak to a sense of wonderment and disbelief that foregone events ever occurred, and about the ensuing anxiety when we are unable to grasp and preserve them.
Technology has made old images equally accessible as recent ones, causing a rift in historical context whereby the medium of digital information flattens time and space. Randall's concern with these current themes in his paintings ultimately point to the very mechanisms that underlie the act of painting itself, an attempt to freeze moments, memories and pieces of ourselves in time; even if it is all on fire and hurtling across the sky.

Canadian born, Winnipeg based painter Sean William Randall's dynamic oeuvre depicts a man whose brilliant colour sensibility coupled with incisive awareness has made him one of Canada's most interesting painters working today. In 1992 Randall left his career as an architect to dedicate himself to painting; this brash confidence is evinced in his work where one minute he demonstrates a profound love for Canadian landscape painting, conjuring comparisons to the enchanting Ivan Eyre, and the next moment setting the tradition on fire by painting flaming wreckage streaking across the pastel prairie sky. His work often invokes meta-cycles concerning image inundation and the way these images function in our subconscious and
mediate our experiences as citizens of the 21st century.
In this latest series, Randall plays with notions of reality and familiarity as being constructs, informed by images from our past which play on our memory. He realizes this concept by depicting a setting which perhaps feels familiar though is decidedly unplaceable. Palpable tension is created within the image as the viewer is left to wonder whether we are situated on a lit path, or floating down a gentle stream towards or away from, an unknown light source.
Randall's painting practice acknowledges that it is dictated by the use of modern technology while concurrently striving to be its antithesis through analyzing the concepts and producing work in a slow medium like painting. His work leaves us with a question relevant to our modern existence – can we still differentiate between which memories are our own and which have been crafted for us, and is there a difference?
Checkout these exclusive online offers
Access your collector profile
Manage your collector profile and get notifications and exclusive offers on the artwork and artists you're interested in. Provide your email address and we will send you a secure link.