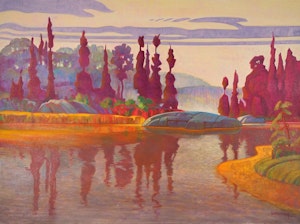 Terry Watkinson was born and raised in Thunder Bay, Ontario. After completing two years of the architecture program at the University of Toronto he joined the rock band Max Webster with Kim Mitchell. For the next eight exciting years, Terry toured with the band throughout North America and Europe playing to sold out audiences and recording six gold and platinum records. When the band broke up, Terry returned to the University of Toronto, completing a B. Sc. degree in Medical Illustration. He went on to teach surgical illustration and perspective for the university's Biomedical Communications program. His illustrations are featured in many medical textbooks and journals. Today this multi-talented artist creates a brilliant sense of light, depth and emotion in his spectacular wilderness scenes and cityscapes. Terry's paintings incorporate many of his life experiences: his Thunder Bay childhood can be seen in his bond with the Canadian north; his architectural training gave him structure, precision, draftsmanship and perspective; his success with medical illustration shows in his discipline and knowledge of anatomy; and, finally, from his music comes rhythm, big gesture, and a sense of lively communication.
Add Terry Watkinson to your Collector Profile
Want to get notifications or exclusive online offers for artwork by Terry Watkinson? Add them to your collector profile and let us know what you're looking for.