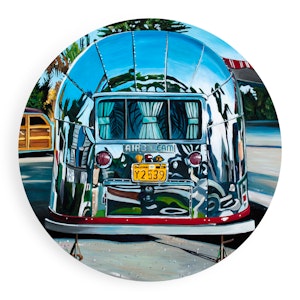 Taralee Guild was born in 1984 and grew up in Thunder Bay, Ontario. Brought up in a family that supported her love for drawing, at 12 she inherited her Grandma Ethel's paint box and easels. From what began with an impromptu still life painting session, Taralee moved onto a self-taught and passionate affinity for the medium. To this day her obsessive artistic practice is entirely focused on painting. Having moved out West, she graduated from Emily Carr University of Art and Design with a Visual Arts BFA in 2010. With a broader understanding of art history and critical theory about painting, Taralee works on several thematic series at once, each with their own ideological context and geographical significance. Her artwork has been internationally collected and she exhibits regularly, continuing two central series: Airstreams and Nature's Cathedral.
Add Taralee Guild to your Collector Profile
Want to get notifications or exclusive online offers for artwork by Taralee Guild? Add them to your collector profile and let us know what you're looking for.