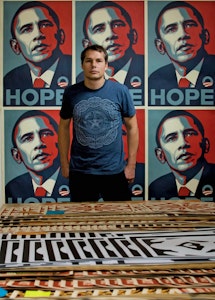 Frank Shepard Fairey is an American contemporary street artist, graphic designer, activist, illustrator, and founder of OBEY Clothing who emerged from the skateboarding scene. He first became known for his "Andre the Giant Has a Posse" sticker campaign while attending the Rhode Island School of Design.
Add Shepard Fairey to your Collector Profile
Want to get notifications or exclusive online offers for artwork by Shepard Fairey? Add them to your collector profile and let us know what you're looking for.