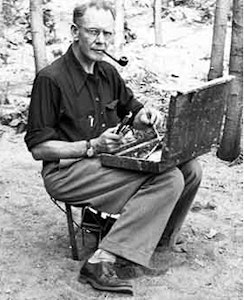 Ralph Burton (1905– 1983) was a well-known Ottawa Valley artist whose body of work largely focused on the Canadian landscape, both natural and built.
Burton was one of the many regional artists influenced by the Group of Seven who began to appear across the country in the mid-twentieth century. In 1947, Ralph Burton met and studied under A.Y. Jackson at the Banff School of Fine Arts. They had no difficulty in connecting with one another's bold and Impressionistic painting styles. Soon, Jackson and Burton became good friends as well as close painting companions. Like Jackson, Burton loved the outdoors and most of his work was done in this setting. Like Jackson, he sketched on-site with oil paints on birch plywood panels, sometimes later committing these works to larger canvases. Over a period spanning more than 20 years, Burton would accompany Jackson on sketching trips to the Gatineau Area, Eastern Ontario and beyond. Together, they each depicted their environs, the physical structures they witnessed and, less frequently, the people of the regions they visited. Naomi Jackson-Groves, A. Y. Jackson's niece, expressed in a CBC radio interview upon Burton's passing in 1983 that "Ralph had been one of A. Y.'s dearest, most loyal and helpful friends– a very quiet, modest and gentle man."
Burton is most often referred to as a plein-air artist who focused largely on the Canadian landscape. His paintings celebrate its rough beauty as well as the tenacity of man-made structures, set in both rural and urban environments, particularly in the Ottawa Valley region. Burton was also widely regarded as a skilled art teacher, with one student remarking on his "love of colour," "assured draughtsmanship" and the "powerful observation" evident in his works. Another student and art historian observed that Burton's works are "very rhythmical… straight lines were rare, things are always flowing and moving through his brush strokes and the variation in [his] colours."
Burton's bright and declarative use of paint and colour seemed a suitable complement to the aggressive expansion that Canada was experiencing at the outset of the 1950s and early 1960s. Burton had an impulse to record– best demonstrated by his decision to paint the Lebreton Flats and Lowertown areas in 1963-65, just before the National Capital Commission demolished all of its buildings. Eighteen sketches were made of various street scenes at this time. Lebreton Flats was once a working-class neighbourhood in Ottawa's west end that saw its land expropriated in the 1960s, slated for demolition and urban renewal. The politicians of the day referred to the area as a "slum" that needed to be eradicated from an otherwise blossoming city, but Burton saw the area as a vibrant and hard-working neighbourhood that many people called home. As one art historian put it, "Working just ahead of the demolition crews, Ralph Burton produced a series of small oil sketches that document the final months of Lebreton Flats… [and he] rendered these architectural portraits with powerful observation." The author also noted that while Burton's artistic style is generally described as "free" and "abbreviated," he was nevertheless "a meticulous recorder of architectural detail." A retrospective of Ralph Burton works "Acres of Time: The Lebreton Flats" was held at the Karsh-Masson Gallery, Ottawa City Hall in 1997.
Add Ralph W. Burton to your Collector Profile
Want to get notifications or exclusive online offers for artwork by Ralph W. Burton? Add them to your collector profile and let us know what you're looking for.