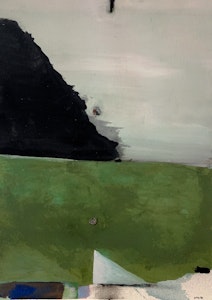 Otto Donald Rogers was born in 1935 in Kerrobert, Saskatchewan and currently resides in Prince Edward County, Ontario.
Otto taught at the University of Saskatchewan in Saskatoon, from 1959 – 1988, after receiving his Master's in Fine Art from the University of Wisconsin. He was instrumental in sustaining the Emma Lake Workshops, which, for several generations, has provided a meeting point for some of North America's most respected visual artists, among them Jack Shadbolt, Helen Frankenthaler, Barnet Newman, Jules Olitski, Kenneth Noland and Otto himself.
Otto is considered one of Canada's senior abstract painters and his work is included in nearly every major collection in the country, including: the Art Gallery of Ontario, the Beaverbrook Art Gallery, Fredericton, Canada Council art Bank, the Art Gallery of Hamilton, the Art Gallery of Windsor, McKenzie Art Gallery, Regina, Montreal Museum of Fine Arts, the National Gallery of Canada. Internationally, his work can be found in the National Gallery of Iceland, Museu d'Art Contemporani de Barcelona and the Museum of Fine Arts in Boston, to name a few.
Since 1960, Otto Rogers has been a member of the Canadian Bahá'i Community and his deeply spiritual art reflects his compassionate and insightful nature
Add Otto Rogers to your Collector Profile
Want to get notifications or exclusive online offers for artwork by Otto Rogers? Add them to your collector profile and let us know what you're looking for.