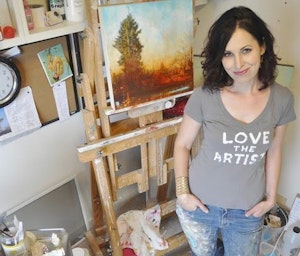 Born in the former Czechoslovakia, Nikol has been immersed in the world of art since a young age. From the museums of Prague to the often controversial local artists' presentations, she was continually exposed to fascinating subject matter. Haskova and her family escaped the formerly oppressed communist country in 1987. After a long and often trying process, they were allowed to resettle in Vancouver. Although this experience was often challenging, it provided further observation not only of the art world, but also of politics, spirituality and the strength of the human spirit. Nikol currently paints in her Vancouver area studio. While deeply engaged in exploring the conflict of urban sprawl, her subject matter often varies. Embracing multi media work including installation, the theme constantly evolves. She supports charities and foundations such as Diamond Center For Living, Canadian Cancer Society and others.
Add Nikol Haskova to your Collector Profile
Want to get notifications or exclusive online offers for artwork by Nikol Haskova? Add them to your collector profile and let us know what you're looking for.