Oil and Acrylic on Canvas , 2018
12 x 12 in
$1,300.00 including frame
---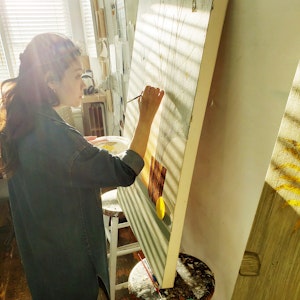 Mira Song is an interdisciplinary artist based in Vancouver, BC and Seoul, South Korea and has exhibited in Seoul, Hong Kong, Toronto and Vancouver. She holds a Masters of Applied Arts from Emily Carr University of Art & Design, a Certificate in Garden Design from UBC and a BFA from Korea National University in Seoul, South Korea. In her practice, Song explores natural and constructed public spaces, reframed through the embodiment of different senses that trigger memories and imagination. Song investigates this aesthetic territory by gathering objects and images of architectural and natural spaces which she then re-appropriates into multi-media works, including painting and sculpture. Her work can be found private collections within Canada, The United States and South Korea.
Add Mira Song to your Collector Profile
Want to get notifications or exclusive online offers for artwork by Mira Song? Add them to your collector profile and let us know what you're looking for.
Oil and Acrylic on Canvas , 2020
16 x 12 in
$1,600.00 including frame
---
Mixed Media on Canvas , 2020
24 x 18 in
$2,600.00 including frame
---
Oil and Acrylic on Canvas , 2018
48 x 72 in
$7,700.00 including frame
---
Oil and Acrylic on Canvas , 2017
30 x 24 in
$3,300.00 including frame
---