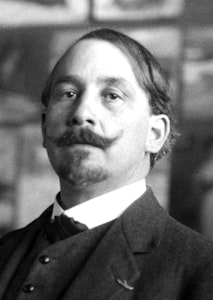 Born, 1869, in the village of Arthabaska, Quebec. Although the young Marc-Aurele de Foy Suzor-Cote excelled in both musical and artistic pursuits, his love of painting won precedence and he traveled to Paris in 1891 for three years of art studies at the Ecole de beaux-arts. He returned to North America briefly, pursuing commission work, before returning to Europe for an extended period between 1897 and 1907. By 1906 he had left behind the academic realism of his early work, developing instead a bold impressionistic style. Once back in Canada he found his greatest inspiration in the Canadian landscape itself. He painted landscape in a forceful impressionistic style which was unfamiliar to Canadian audiences of the time. The multi-talented Suzor-Cote was also easily able to make the shift from painting to working in three dimensions. His bronzes were cast in New York at the Roman Bronze Works, and became sought after by collectors in Canada and the United States. Suzor-Cote won the Jessie Dow prize for best painting at the Art Association of Montreal in 1914 and again in 1925. By 1925, he had made a significant contribution to impressionism in Canada, influencing younger artists to paint the Canadian landscape in a new way. He died in Daytona Beach, Florida in 1937.
Marc Aurele de Foy Suzor-Cote Wanted for Purchase
Mayberry Fine Art and our clients are actively seeking works by artist Marc Aurele de Foy Suzor-Cote for purchase or consignment. Contact us for confidential assistance when offering a work by Marc Aurele de Foy Suzor-Cote for private sale.
Add Marc Aurele de Foy Suzor-Cote to your Collector Profile
Want to get notifications or exclusive online offers for artwork by Marc Aurele de Foy Suzor-Cote? Add them to your collector profile and let us know what you're looking for.