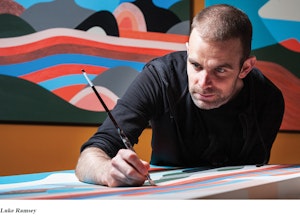 Luke Ramsey exhibits internationally and works in public art, murals and illustration. His client list includes The New York Times, The Cartoon Network, Patagonia, The BC Children's Hospital and more. Luke's paintings are in collections with The Government of Canada and The City of Seattle. His collaborative mural with Josh Holinaty won a National Urban Design Medal from the Royal Architectural Institute of Canada. Luke's book Intelligent Sentient? is published by Drawn & Quarterly, and was nominated for a Doug Wright Award. From 2016-2018 Luke was The City of Victoria's first Artist in Residence. He currently lives on the Sunshine Coast, BC, Canada.
Add Luke Ramsey to your Collector Profile
Want to get notifications or exclusive online offers for artwork by Luke Ramsey? Add them to your collector profile and let us know what you're looking for.