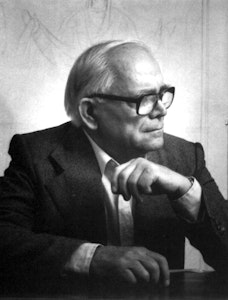 Leo Mol was born in Ukraine in 1915. He studied at the Leningrad Academy of Arts and later continued his studies in Berlin and the Hague. In 1948 he and his wife, Margaret, came to Canada and made their home in Winnipeg. A sculptor of world renown, he carried out commissions of world figures such as Pope John Paul II, Dwight D. Eisenhower, and John Diefenbaker. He was a member of the Royal Canadian Academy and in 1989 was appointed an officer of the Order of Canada in recognition of his artistic contributions to his adopted country. The Leo Mol Sculpture Garden officially opened in Winnipeg's Assiniboine Park in 1992. Since that time the garden has attracted visitors from around the world and enriched the cultural life of Winnipeg.
Leo Mol Wanted for Purchase
Mayberry Fine Art and our clients are actively seeking works by artist Leo Mol for purchase or consignment. Contact us for confidential assistance when offering a work by Leo Mol for private sale.
Add Leo Mol to your Collector Profile
Want to get notifications or exclusive online offers for artwork by Leo Mol? Add them to your collector profile and let us know what you're looking for.