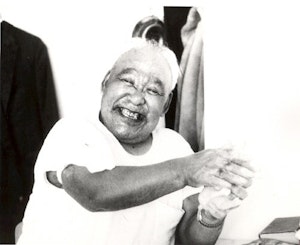 Joe Talirunili was brought up within the traditional Inuit lifestyle and culture. Much of his childhood was spent hunting with his father in the Kuujjuaraapik and Richmond Gulf region. He was exposed to non-Inuit, or qalunaat, at an early age through his father's work with mining prospectors. As an adult, therefore, he was able to support his family not only by hunting but also by occasional work with the non-Inuit who settled in Puvirnituq in the 1950s. It was also through his contact with non-Inuit that Talirunili discovered the great potential of images to tell stories and convey information. He worked first in sculpture, representing traditional subjects such as men or women fishing, hunting, and carrying out domestic activities. He later made drawings and prints, in which he also told the stories of significant events from his childhood and the life of his people.
Add Joe Talirunili to your Collector Profile
Want to get notifications or exclusive online offers for artwork by Joe Talirunili? Add them to your collector profile and let us know what you're looking for.