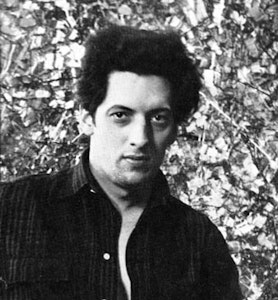 Born in Montreal in 1923, abstract expressionist painter and sculptor Jean-Paul Riopelle is widely regarded as the founding father of Canadian contemporary art. Internationally acclaimed during his lifetime, his works are housed in museums and galleries around the world including the National Gallery in Ottawa, the Museum of Modern Art and the Guggenheim Museum in New York City. Riopelle spent most of his career in France where he befriended some of the 20th century's most influential artists. These included writer Samuel Beckett, surrealist Andre Breton, and sculptor Alberto Giacometti. Rioplelle returned to Quebec in the 1970s. He created his last major work, L'Hommage a Rosa Luxemburg (Tribute to Rosa Luxemburg) after the death of his long-term companion, American painter Joan Mitchell, in 1992. The narrative fresco of 30 paintings was more than 130 feet long and was made using aerosol spray paint. Former Canadian Prime Minister Jean Chretien called Riopelle one of Canada's greatest painters. He died at the age of 78 in 2002.
Jean Paul Riopelle Wanted for Purchase
Mayberry Fine Art and our clients are actively seeking works by artist Jean Paul Riopelle for purchase or consignment. Contact us for confidential assistance when offering a work by Jean Paul Riopelle for private sale.
Add Jean Paul Riopelle to your Collector Profile
Want to get notifications or exclusive online offers for artwork by Jean Paul Riopelle? Add them to your collector profile and let us know what you're looking for.