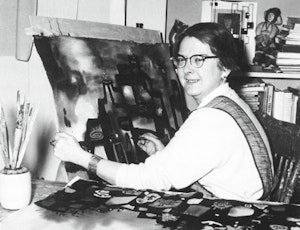 For the most part a self taught artist, Janet Mitchell studied at night at the Institute of Technology and Art, Calgary, and attended summer workshops at the Banff School of Fine Arts where in 1959 she studied with Gordon Smith. Her work was influenced by the Group of Seven. She was mainly a watercolour artist but also worked in oil. From 1949 she exhibited in a number of solo exhibitions in Calgary and Toronto. Her work is held at the National Gallery of Canada as well as in some University collections. She was a member of the Alberta Society of Artists and Canadian Society of Painters in Watercolour.
Add Janet Mitchell to your Collector Profile
Want to get notifications or exclusive online offers for artwork by Janet Mitchell? Add them to your collector profile and let us know what you're looking for.