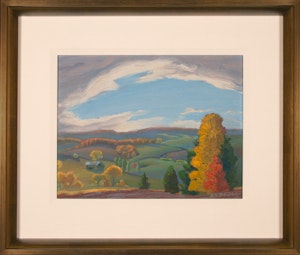 Born in Lachine, Quebec, Hassell studied at the Ontario College of Art, Toronto under J. W. Beatty, J.E.H. MacDonald and F.H. Johnston; and under Hayward Veal at the Heatherley School of Art, London, England. He worked at Brigdens until 1955 when he turned to painting full-time. Working in oil, watercolour and acrylic, his subjects include figures, portraits, landscape and coastal scenes. He traveled and painted in Spain, Ireland(1965), Sussex in England, Massachusetts, Newfoundland, Nova Scotia, Manitoba, Steveston, British Columbia and the Canadian Arctic. Hassell exhibited with the RCA between 1936-1966, the MMFA in 1960 and 1961, and at the Memorial University Art Gallery, St. John's Newfoundland in 1965.
Add Hilton Hassell to your Collector Profile
Want to get notifications or exclusive online offers for artwork by Hilton Hassell? Add them to your collector profile and let us know what you're looking for.