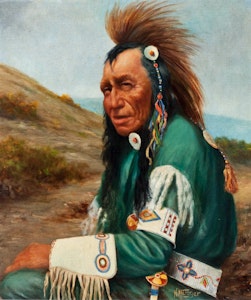 Father Henry Metzger was born in 1876 in Glendelbrook, Alsace, France. He studied in Paris at École des Beaux Arts and the private art school Académie Julian, but became an ordained Roman Catholic priest in 1901. He was a parish priest in France until 1909, when he came to Saskatchewan and served at St. Joseph's Colony in Balgonie (1913-1916) and at St. Peter's Colony near Kronau (1916-1949).
Metzger established his art studio in 1916. His oil paintings included landscapes, portraits of Native Canadians, and paintings with religious themes. His work appeared in many churches in Saskatchewan, including the church at St. Joseph's Colony, which commissioned Metzger to paint a mural, and St. Peter's Colony, where he built a Grotto to Our Lady of Lourdes. Despite these accomplishments, Metzger did not seek recognition or publicity for his work.
Metzger's work was exhibited in a solo show at St. Augustine Hall in Humboldt, Saskatchewan, and in group exhibitions in Regina after he passed away. His work is part of several private and public collections, including the MacKenzie Art Gallery (Regina) and the National Gallery of Canada.
Father Metzger died in 1949, in Kronau, Saskatchewan.
Add Henry Metzger to your Collector Profile
Want to get notifications or exclusive online offers for artwork by Henry Metzger? Add them to your collector profile and let us know what you're looking for.