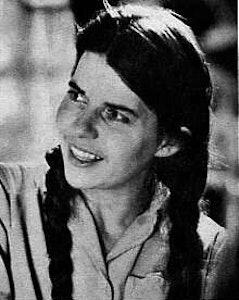 Was largely a self-taught artist, her first foray into the arts took the form of dance and performance but, at the age of 17, a friend offered her his easel, stool, and cast models. Initially interested in this equipment purely for its decorative value, she soon gave up dance and began painting seriously. Her artistic education began with three trips to New York City (1946-48), where she spoke with fellow artists and visited museums. In 1951, she was awarded a scholarship from the Quebec government and travelled to Paris, where she received her first formal training under artist Andre Lhote. Upon her return home, she spent five years painting by herself in an effort to refine her particular abstract style. She participated in several group shows both in Canada and abroad, including The Winnipeg Show (1959), the International Painting Competition at Granby, Quebec (where she won first prize), and exhibits in Paris at the Musee d'art moderne and the Salon des femmes peintres. A founding member of the Conseil de la peinture (from 1966), she was also a member of the Non-Figurative Artists' Association of Montreal (1957-60). Her work can be found in the National Gallery of the Canada, Musee du Quebec and many important private collections.
Henriette Fauteux-Masse Wanted for Purchase
Mayberry Fine Art and our clients are actively seeking works by artist Henriette Fauteux-Masse for purchase or consignment. Contact us for confidential assistance when offering a work by Henriette Fauteux-Masse for private sale.
Add Henriette Fauteux-Masse to your Collector Profile
Want to get notifications or exclusive online offers for artwork by Henriette Fauteux-Masse? Add them to your collector profile and let us know what you're looking for.