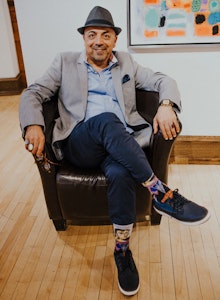 A respected artist in the middle east, this Iraqi born artist immigrated to Canada in 2009. Writing in The Golden Medium, a monograph published for Hannoon's 2008 solo exhibition in Amman, Jordan, critic Khalid Khudayer describes Hashim Hannoon as a realist and an abstract expressionist. He believes that Hannoon's style of abstraction captures the "golden medium", the perfect balance between form and colour. Wherever he lives, Hannoon seeks to achieve contact with the spiritual existence of a place. Since coming to Canada, the concept of the city has become a theme in many of his canvases. He is not concerned with painting a literal portrait of a place, rather his interest lies in capturing the essence of community and how it enriches the city. This process results in abstract images of gentle beauty that invite the viewer to experience his vision for the city through the filter of his imagination. As a result of his acquaintance with the hardships of war, the abstract paintings of Hashim Hannon spring from a milieu quite different from that of many of his North American colleagues. Since arriving in Canada, he continues to remain honest to the spirit that permeates his experience. Painful memories are often a force that cannot be ignored. Once brought into the light and shared with others, however, the same memories can have the power to bring hope. In this way, though born from tragedy and sorrow, the paintings of Hashim Hannoon radiate optimism and an overwhelming vitality.
Add Hashim Hannoon to your Collector Profile
Want to get notifications or exclusive online offers for artwork by Hashim Hannoon? Add them to your collector profile and let us know what you're looking for.