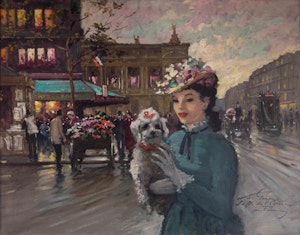 Francois Gerome was born in Budapest in 1895. He attended the fine arts academy in Budapest where he learned to paint along with getting inspiration from the many other artists who studied there. Gerome came from a family of painters where he was taught as well under the tutelage of his parents. He is most well-known for his paintings of women depicted at picturesque spots throughout Paris including the Place de la Concorde and in front of the Opéra. In these representations, the women usually engage the viewer with their frontal pose and direct gaze outward. Gerome used oils, typically on canvas or on board. Gerome typically signed his paintings with his first initial and last name.
Add Francois Gerome to your Collector Profile
Want to get notifications or exclusive online offers for artwork by Francois Gerome? Add them to your collector profile and let us know what you're looking for.