Mixed Media
19 x 22 x 6 in
Please inquire regarding price
---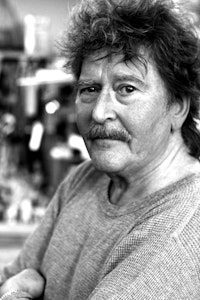 Sculptor, Don Proch was born in Hamilton, Ontario in 1944. He moved to Winnipeg, where he received his BFA and B. Ed from the University of Manitoba in 1966. His debut exhibition with the Winnipeg Art Gallery was the "Twelfth Winnipeg Biennial" in 1971. This was followed by 8 more exhibitions at the WAG between 1972 and 1997. He has exhibited widely in Canada and abroad, including exhibtions in Paris, Brussels, Chicago and the National Gallery of Canada.His work is represented in collections such as the Art Gallery of Ontario; Art News collection, New York; The Canada Council Art Bank, Ottawa; Exxon Collection, Calgary; Glenbow Museum, Calgary; Manitoba Telephone System; The National Gallery of Canada, Ottawa; Shell Canada Collection, Calgary; Vancouver Art Gallery; The Winnipeg Art Gallery; The Richardson Foundation- Greenshields Collection; The Mancy Collection, New York; The Bronfman Collection, Montreal, Quebec; and The Art Gallery of Ontario, Toronto. On November 3rd, 2019, Don received an honorary Doctorate of Law (DCL) degree from St. John's College at the University of Manitoba.
Add Don Proch to your Collector Profile
Want to get notifications or exclusive online offers for artwork by Don Proch? Add them to your collector profile and let us know what you're looking for.