Mixed Media
13.5 x 9.5 in
$975.00
---
Mixed Media
13.5 x 9.5 in
Sold
---
Mixed Media
12 x 12 in
Sold
---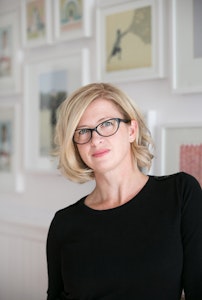 British Columbia artist Danielle Krysa creates mixed media collages featuring simple compositions that use vintage images, a few strokes of paint, and a whole lot of humor. Danielle is the writer behind the contemporary art site, The Jealous Curator, and the author of "Creative Block", "Collage" and "Your Inner Critic Is A Big Jerk". Her work is in private collections in Canada, The United States and Europe. She has a BFA in Visual Arts, and a post-grad in graphic design.
Add Danielle Krysa to your Collector Profile
Want to get notifications or exclusive online offers for artwork by Danielle Krysa? Add them to your collector profile and let us know what you're looking for.
Mixed Media
12 x 12 in
Sold
---
Mixed Media , 2019
24 x 24 in
$3,600.00 unframed
---
Mixed Media , 2018
32 x 32 in
$2,600.00 unframed
---
Mixed Media , 2018
30 x 22 in
Sold
---
Mixed Media , 2018
15 x 15 in
$900.00 unframed
---