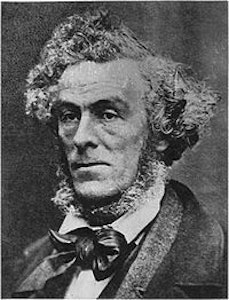 In 1837 Cornelius Krieghoff came to the United States and joined the American Army until 1840. During his term of duty he made many sketches of the Seminole tribal war from which he later did paintings. On May 5, 1840, he deserted, taking his drawing with him. He lived in Montreal for a while and participated in the Salon de la Societe des Artistes de Montreal with the painter Somerville. During his stay in Montreal he befriended the Indians at the Sault Saint-Louis Reservation (Caughnawaga) and made many sketches of them which he later used as inspirations for his paintings. In 1847 he was invited to participate in the first exhibition of the Toronto Society of Arts. In 1853, on the invitation of John Budden, auctioneer, he went to live in Quebec City. He returned to Europe in 1854 and visit Italy and Germany. Back in Canada in 1855, the artist painted winter scenes of farm houses as well as a great variety of themes. Most of the sketches he made since 1855 were destroyed in the Great Quebec Fire in 1881. In 1868 he retired in Chicago. He came back to Quebec City in 1871 only to return again to Chicago where he passed away March 8.
Cornelius Krieghoff Wanted for Purchase
Mayberry Fine Art and our clients are actively seeking works by artist Cornelius Krieghoff for purchase or consignment. Contact us for confidential assistance when offering a work by Cornelius Krieghoff for private sale.
Add Cornelius Krieghoff to your Collector Profile
Want to get notifications or exclusive online offers for artwork by Cornelius Krieghoff? Add them to your collector profile and let us know what you're looking for.