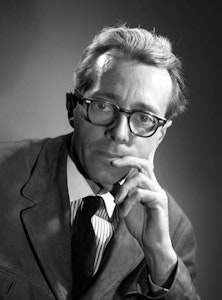 Marcel Barbeau, painter, sculptor, and filmmaker, was born in Montreal in 1925. An active member of the Automatistes movement led by Paul-Emile Borduas, Barbeau is a widely exhibited, innovative artist. As well as studying drawing at the Ecole du meuble, Montreal, he worked with Borduas, architect Marcel Parizeau, and art historian Maurice Gagnon. He travelled extensively 1962-74, living and exhibiting in Paris, New York, and California, and his style changed, moving from the lyrical abstracts of the Automatiste period towards a more geometric mode.
In the late 1970s he returned to the free-form, all-over surface activity that he had favoured before. By 1987, inspired by his sculpture and collages, his painting style changed again, moving back to hard edge forms in highly contrasted colours. He has won many awards, including the 1964 Royal Canadian Academy Zack Award and the 1994 Gold Medal in painting at the Jeux de la Francophonie in Paris and is represented in major collections.
Christian Marcel Barbeau Wanted for Purchase
Mayberry Fine Art and our clients are actively seeking works by artist Christian Marcel Barbeau for purchase or consignment. Contact us for confidential assistance when offering a work by Christian Marcel Barbeau for private sale.
Add Christian Marcel Barbeau to your Collector Profile
Want to get notifications or exclusive online offers for artwork by Christian Marcel Barbeau? Add them to your collector profile and let us know what you're looking for.