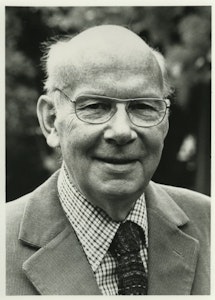 Bertram Charles Binning (born 10 February 1909 in Medicine Hat, Alberta; died 16 March 1976 in Vancouver, British Columbia), popularly known as B. C. Binning, was a leading Canadian artist. In Binning's personal artistic practice he revealed his lifestyle. Known as an excellent draughtsman, he recorded his experiences in intricate line drawings: a detailed remembrance of an unusual hotel room, studies of peaceful-looking female figures, or an architectural drawing of a street in Vancouver. The drawings exude humour and love: a friend cutting a dog's hair, a picnic view from a high perch, self-portraits of self-portraits. Innovative and intelligent, his hospitality to students, colleagues and world figures alike made him a well-loved professor.The paintings, internationally recognised and exhibited regularly, are composed and formal yet saturated with his leisurely weekends sailing the B.C. Coast with Jessie. The nautical themes and the layered, regal, simple, ship forms portray a unique architectural style. The celebratory touches are often primary colours. The expanses of painted shapes are purely those of the coast he knew best.Binning's monumental accomplishments on the scene of Vancouver's art and architecture placed the city on the cultural map internationally. In 1946 he helped to found the Art in Living Group, which in 1949 had a major show, Design for Living, at the Vancouver Art Gallery. His visits to Japan and collaborative personality made him an important figure in the negotiations for the Nitobe Garden at U.B.C. He founded and presided over the U.B.C. Festival of the Contemporary Arts, a mold-breaking yearly avant-garde celebration spanning the decade of the 1960s in Vancouver, at the peak of which Marshall McLuhan spoke in 1964. Eventually he helped found the Department of Fine Art at U.B.C. and headed it. He presented many papers internationally; was on advisory boards; received innumerable grants, awards, fellowships, one-man shows and retrospective exhibitions. He became an Officer of the Order of Canada in 1971. He retired in 1974. He died in 1976. In 1997, the Bauhaus-influenced home Binning designed for himself in 1941 in West Vancouver was declared a National Historic Site of Canada. His beloved Jessie, surviving him by 3 decades, had lived and managed his legacy there until then. His work continues to be shown regularly in Metro Vancouver – lately at the Vancouver Art Gallery, Burnaby Art Gallery and West Vancouver Museum; and is part of The Artists4Kids Trust.1- Binning Residence.
Canadian Register of Historic Places. Retrieved 23 October 2011.
Bertram Charles Binning Wanted for Purchase
Mayberry Fine Art and our clients are actively seeking works by artist Bertram Charles Binning for purchase or consignment. Contact us for confidential assistance when offering a work by Bertram Charles Binning for private sale.
Add Bertram Charles Binning to your Collector Profile
Want to get notifications or exclusive online offers for artwork by Bertram Charles Binning? Add them to your collector profile and let us know what you're looking for.