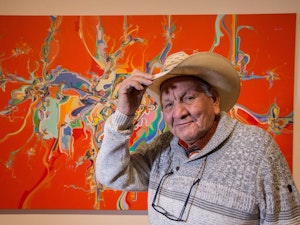 Born of Dene Suline and Saulteaux descent in 1935. Unlike many aboriginal artists of his time, Janvier received formal art training from the Alberta College of Art in Calgary and graduated with honours in 1960. As a member of the commonly referred to "Indian Group of Seven", Janvier is one of the significant pioneering aboriginal artists in Canada, and as such has influenced many generations of aboriginal artists. Janvier was selected to represent Canada in a Canadian/Chinese Cultural Exchange in 1985 and at the Canadian Forum on Cultural Enterprise, in Paris, France, in 2004. He has completed several murals nationally, including "Morning Star" on the dome of the Canadian Museum of Civilization. Alex Janvier recently received three prestigious Lifetime Achievement Awards from the National Aboriginal Achievement Foundation, The Tribal Chiefs Institute, and Cold Lake First Nations.
Alex Simeon Janvier Wanted for Purchase
Mayberry Fine Art and our clients are actively seeking works by artist Alex Simeon Janvier for purchase or consignment. Contact us for confidential assistance when offering a work by Alex Simeon Janvier for private sale.
Add Alex Simeon Janvier to your Collector Profile
Want to get notifications or exclusive online offers for artwork by Alex Simeon Janvier? Add them to your collector profile and let us know what you're looking for.